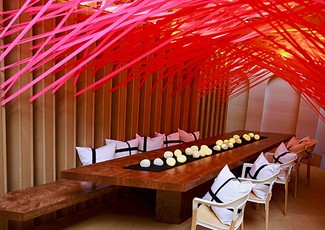 DINING BY DESIGN, presented by DIFFA: Design Industries Foundation Fighting AIDS, now in its 12th year in San Francisco, is the city's most anticipated high-design charitable event showcasing top designers who create fantastic, one-of-a-kind tabletop installations.



BY DESIGN San Francisco takes place over two nights: TABLE HOP & TASTE preview party on Wednesday, November 14, and the seated GALA DINNER on Thursday, November 15. We are pleased to welcome several returning table sponsors and designers as we look forward to introducing many new participants. 2012 promises to be an exciting and inspirational year of breakthrough design, culinary excellence and critical fundraising for uninsured HIV/AIDS patients at the UCSF Positive Health Program at San Francisco General Hospital.



This year's San Francisco event Co-chairs are Nan and Norman Rosenblatt.
Thursday Nov 15, 2012
6:30pm-11pm
More events in San Francisco