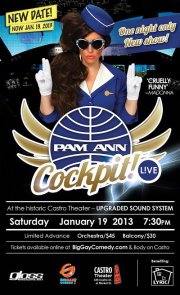 PAM ANN - the sassy-mouted 'International air hostess for the A-List crowd' and alter ego of Australian comedian Caroline Reid - returns to the Castro Theatre in January, and SFMBs HAVE THE ONLY RESERVED SEATING in house! Our first block of 40 reserved seats sold out in 12 hours, but we've just got a second block of seats now in center orchestra rows GH&J.

You can see the seating chart here:
http://www.castrotheatre.com/images/maps/map_2006.gif

Get your tickets while they last!

EVENT: PAM ANN - Cockpit! - SFMB Reserved Area 2
LOCATION: The Castro Theatre, 429 Casto St, SF
DATE: Saturday Janusry 19th, 2013
SHOWTIME: 7:30 PM. Doors open at 6:30 PM
TICKETS: $45 in advance at the event website (see below) using the promotional code SFMBGROUPSEATING: all caps, all one word.

Event website: http://www.biggaycomedy.com/tickets

NOTE: When you enter the promotional code, the $45 price will not change, but you'll the know that the code has activated when the words "(Discounted 0.00%)" appear under the 'Orchestra Ltd Early Bird' listing. Regular tickets for this show will be $55 with unreserved seating.
More events at The Castro Theatre