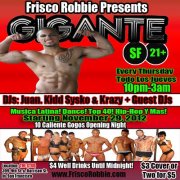 GIGANTE 100% Gay Latin Thursdays Nights in SF!
Thursday is the New Sabado!

GIGANTE is moving to the legendary venue THE STUD located in the SOMA District of San Francisco! (399 9th St. & Harrison St.)

This event originally was a monthly Saturday party.
Now, GIGANTE will be a Weekly Affair EVERY THURSDAY Night!
Starting November 29th, 2012!


Doors Open at 10PM and party LATE
into the after hours untill 3AM!

Cover is Only $3 All Night!
Or $5 For Two People!
So Bring a Friend!

Cum Early and Drink for Cheap!
$4 Well Drinks Until Midnight!

GOGOS GALORE for the The Grand Opening!
There Will Be 10 of the Bay Area's Best Looking Gogo
Dancers in The House Working it For You!

Finally we have a truly 100% Latin Thursday Night Fiesta in San Francisco!

About The Promoter:

Frisco Robbie a San Francisco Native born to Mexican and Central American parents. He has been in the club industry since 2006, mentored and tutored by the best in the gay night life industry. His events are unique in the sense that there isn't many promoters who can attract a good looking, fashion forward, vibrate crowd. You will see the cutest gay men, sexiest women, hottest transexuals and everything in between! The number 1 reason this crowd attends his events
is because he's in touch with what they want and his parties bring it every time!

http://www.facebook.com/FriscoRobbiePresents

About The DJs:

For The 1st Time Ever There will be 3 of the best Latin DJs the SF Bay Area has to offer all from different party scenes! spinning for the Grand Opening Night. You will experience
a musical mix of Latin Musica, Dance, Top 40, Hip Hop y Mas!


DJ JUAN of BeatBox Events, The President of The Castro Street Fair, The Creator of MR. a wildly popular Friday Night Gay Pride Party. Those are just a few of the amazing projects he is part of. Recently He's been getting in touch with his Mexican and Cuban roots by becoming the Resident DJ of GIGANTE, banging out sick musical mixes leaving people wanting more of his caliente beats!

http://www.facebook.com/JUANJESUSCHRIST


DJ KIDD SYSKO has been spinning at the best gay events for over 10 years hard and strong! He first started adding latin beats to his arsenal of party rockin' music over a year ago during the popular CANDELA sun party in the Castro and mastered it at ZONA ROSA SF in January. People were blown away by his high energy mixes that went from hip hop, electro, salsa, cumbia and more. Now he is back and ready to bring that fire to the dance floor at GIGANTE!

http://www.facebook.com/DJKiddSysko


DJ Krazy is one of the premiere DJs within the latin scene in The Bay Area. spinning at massive latino festivals, the hottest latin night clubs, a featured DJ at PURA. He's no stranger to spinning in the LGBT community as he was one of the DJs for CANDELA. Get Crazy with him every Thursday at GIGANTE!

http://www.facebook.com/DJKRAZY510

Let's Take Gay Latin Thursday Nights to the Next Level!


The Stud


399 9th St.

Thursday Nov 29, 2012
10pm-3am