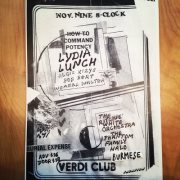 Lydia Lunch with Ritchie White Orchestra, Burmese and Phantom Family Halo at the VERDI CLUB
Please join us for an amazing night of Music with Lydia Lunch and friends at the Verdi Club on November 9th, 2012.

"An aurally diverse display of merciless live performances including material from Teenage Jesus and the Jerks, 8 Eyed Spy, 1313, Shotgun Wedding etc." Lydia Lunch has spent decades trolling through the sub/terranean sick-home black & blues creating a schizophrenic musical legacy which loops from shrill No Wave to bludgeoning Hard Rock, from smoky Jazz Noir and illustrated word to macabre Psychedelia.

Lydia Lunch's all star band- Bob Bert (Sonic Youth) Weasel Walter (Flying Luttenbachers) and Algis Kizys (Swans)

Algis Kizys is renowned as one of New York's most ferocious bass players having provided a thunderous savagery for Swans, Foetus, Glenn Branca, Alex Hacke, Pigface, Bag People, The Termites, Prowers, Carla Bozulich, Nels Cline, Daniele di Picciotto, The Hallicrafters and Of Cabbages and Kings. Mr. Kizys has also crafted songs and soundtracks for film and installation for Gus Van Sant, Eve Sussman, Simon Lee, Matthew Barney with Jonathan Bepler and numerous other luminaries.

Bob Bert has pounded the skins for Sonic Youth, Pussy Galore, Chrome Cranks, Knoxville Girls, fronted his own group Bewitched and has provided a unique rocking voodoo backbeat on over 30 albums. A stint in print making at Warhol's Factory helped inspire him to create the highly lauded music, art and literary magazine BB GUN.

Weasel Walter is best known as the founder of the cult punk jazz/no wave/brutal prog band, The Flying Luttenbachers. Mr. Walter has also worked with other experimental rock groups like XBXRX, Behold The Arctopus, Burmese and Lake Of Dracula. As an improviser, Mr. Walter has performed with Evan Parker, Marshall Allen, Elliott Sharp, Peter Evans, Henry Kaiser, Mary Halvorson, Nels Cline, Jim O'Rourke and Vinny Golia.

The Ritchie White Orchestra- From NYC, Founder Cesar Padilla is in California celebrating his exhibition "Ripped" opening in LA at the Fashion Institute of Design and Merchandising on Nov 8. Long time friend of Lydia Lunch (who wrote the forward for his book "Ripped") they embarked on these two California dates together.
http://soundcloud.com/ritchie-white-orchestra

Burmese-Bay Area LOUDNESS from the San Francisco Guardian-
"Hailing from some sweat hole in Oakland, Burmese are a two-bass, one drummer grindcore act that go after your Eustachian tubes like a chimpanzee with a power drill. If you've ever seen them live, then you know what to expect: the full-moon, bug-eyed rampage that is their live set, minus the danger of getting hit in the face by somebody's bass and/or fist.
That danger is a big part of Burmese's schtick, and it's something that makes them one of this city's best bands - so one would expect the loss of physicality and visuals to cost them on record. It doesn't. "Monkeys Tear Man To Shreds..." is a giant muddy throb that simmers and explodes into a pile driver of a release. Dividing the vocals between a simian screech and a furry monster growl, Burmese drop 20 tracks of quasi-political (if you follow along with the lyric sheet) spasmodia in 15 minutes and then run the title track, a massive bass hum, through the center of your skull for another 20.

It's the sort of noise freak-out that makes life worth living."

Phantom Family Halo-" heavy psych band" which "dwells in a post-metal state of ungodly loudness" from Louisville Kentucky, members of Slint.

VERDI CLUB // 2424 Mariposa Street, San Francisco

Doors at 7pm, line up as follows-
8pm PHANTOM FAMILY HALO
9pm BURMESE
10pm THE RITCHIE WHITE ORCHESTRA
11pm LYDIA LUNCH

Presale tickets available via VACATION-
http://vacation-sf.com/collections/vacation-exclusives/products/lydia-lunch

Purchasers will receive an email confirmation, and name will be at will call at the door.

This special night of music is brought to you by VACATION. Www.VACATION-SF.com

VACATION, a Vintage Shop, Gallery and Performance space in the Tenderloin— 651 Larkin St, San Francisco.

Verdi Club

Friday Nov 9, 2012
7pm-10pm
More events in San Francisco