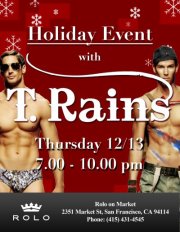 Rolo Holiday Party - SPECIAL GUEST - T. Rains
We invite you to join us for the official Rolo Holiday Party.

We'll be celebrating with Traver Rains who will showcase his newest line. Check it out here:

www.t-rains.com

Feel free to invite friends. Please make sure to RSVP for you and your friends.
2351 Market St, San Francisco, CA
San Francisco
Thursday Dec 13, 2012
7pm-10pm
More events in San Francisco