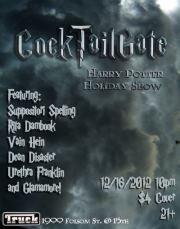 COCKTAILGATE: A Harry Potter Holiday Show
This Sunday, take a walk down Nocturne Alley to Truck and watch Cocktailgate pay tribute to one of the most beloved series of all time. Defense Against the Dark Arts couldn't possible have prepared you for the show we have planned.

Featuring:
Suppositori Spelling (Who we all know has more than her fair share of Hogwarts)
Rita Damspellbook
Vain Hein
Dean Disaster
Urethra Franklin
Glamamore


Rita Damspellbook will be greeting you at the door with the Sorting Hat to put you in your proper house.

Guido Can-Fucking-Dito will be your wizard on the lights.

Shane Alan the house elf will be collecting tips from the audience (the winning house gets FREE admission to Cocktailgate for the month of January)

We have cheap potions, witchy tunes and drag SO convincing that you'll swear we were chugging polyjuice and all for just four galleons!

Doors at 9:00, first show at 10:00 with guerrilla drag shortly after.

And in the spirit of holiday giving, this week we celebrate the birthday of one individual who gives to ALL of us LYNNE! Also, this week is a fundraiser for HOMOBILES!

Truck


1900 Folsom St.

Sunday Dec 16, 2012
9pm-12:05am
More events in San Francisco