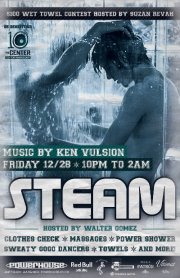 STEAM w/ Ken Vulsion: 12.28
What better way to kick off a FIVE DAY weekend than in the company of your favorite cruisey men at the Powerhouse? The bathhouse revival continues to envelop SoMa with its own brand of white-hot shenanigans, for one last 2012 hurrah!

We're bringing in Ken Vulsion of Blaksheep (http://weareblaksheep.com) to set the mood with his world-renowned beats. This is this veteran discaire's Powerhouse debut, so make him feel at home!

As Always, we bring you:

*$100 Wet Towel Contest, hosted by Party Girl Extraordinaire: Suzan Revah!
*The infamous Powershower!
*Glistening GoGo Dancers, decked out in My Trick Pony Jocks!
*Deep Tissue Massages by Ramses of TouchSpa!
*Samplings and Drinks Specials by Patrón Tequila & Ultimat Vodka!
*Steamworks Swag!
*Free Clothes Check (if you wrap your goodies up in our towels)!
*and MORE!

$5 cover hooks up the SF LGBT Center.


Powerhouse


1347 Folsom St.

Friday Dec 28, 2012
10pm-2am
More events at Powerhouse