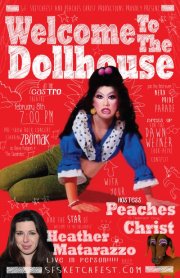 Welcome To The Dollhouse: The Peaches Christ Experience
SF Sketchfest & Peaches Christ Productions Present

WELCOME TO THE DOLLHOUSE: The Peaches Christ Experience

With Special Guest Star Heather Matarazzo In-Person!



Castro Theatre, Saturday, Feb. 8th 7pm



ONLINE TICKETS: http://www.ticketweb.com/t3/sale/SaleEventDetail?dispatch=loadSelectionData&eventId=3251544&pl=sfsketch



SF Sketchfest proudly presents the first ever Peaches Christ presentation of Welcome To The Dollhouse with DAWN WEINER herself in-person- special guest star HEATHER MATARAZZO!



This is Peaches' all-time favorite Junior High-School Horror Comedy and we're planning to roll out the red carpet. Featuring onstage rock show by house-band Zbornak as "The Quadratics"! Dress up for a Dawn Weiner Look-A-Like Contest! March proudly in our Nerd Pride Parade! And so much more-



WELCOME TO THE DOLLHOUSE is Todd Solondz's darkly hysterical film, which won the Grand Jury Prize at the 1996 Sundance Film Festival. It follows eleven-year-old Dawn Wiener, a middle child in middle school in the middle of New Jersey. Sometimes hated, often reviled, seldom understood, Dawn tries in vain to put on a happy face as she struggles through the onset of what looks to be a long puberty. The Peaches pre-show will feature musical numbers and other surprises and a special onstage conversation with the star of the film, "Dawn Wiener" herself, Heather Matarazzo.




More events at The Castro Theatre