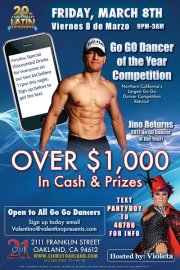 Go Go Dancer of the Year Competition - $1K+ in Prizes
Friday, March 8th, 2013, Latin Explosion at Club 21 brings back their Annual Go Go Boy & Girl Competition with $1,000 in Cash and Prizes.

Join our sexy go go dancers as they compete for your votes and dollars in an Annual Go Go competition.

This is always one of our funnest events which draws go go dancers from all over looking to compete for the Cash Prizes and your votes.

So come out and show some appreciation for some of your favorite go go dancers and bring them dollar bills.

If you a go go dancer or you know a go go dancer make sure they sign up our last event had 15 go go dancers competing.

Open to All Go Go Dancers
Sign up today email [email protected]

Hosted by: Violeta

Text partyboy to 46786 for special drink specials this night.
Club 21

Friday Mar 8, 2013
8pm-3am
More events in San Francisco