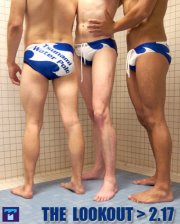 Tsunami Water Polo @ Jock Sunday
SF TSUNAMI WATER POLO is BACK at Jock Sunday at the Lookout!

It's the first Jock appearance of the year for San Francisco's best least-dressed sports team.

It's also a three-day weekend for some of you, so no excuses!

Get your ass over to the Lookout so you can stare at ours!

* Jello shots!
* 50/50 Cash Prize Raffle!
* Bumpin' Beats by the Lookout's resident Jock DJs!
* Did we mention we'll be wearing nothing but speedos and a smile?

Thank you for supporting Bay Area LGBT athletics!
Lookout Bar


3600 16th St.

Sunday Feb 17, 2013
3:30pm-6pm
More events at Lookout Bar