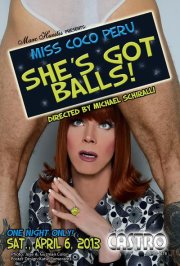 COCO PERU in "SHE'S GOT BALLS "
Hold onto your...hats! Miss Coco is playing the Palace- that is the Castro Theatre, San Francisco's historic movie palace in exclusive Bay Area premiere of her all-new show!



Tickets are going fast... so go to

http://www.ticketfly.com/event/221353-miss-coco-peru-shes-got-balls-san-francisco/



and type in the code JAZZHOT for DISCOUNT!

Hurry , VIP is already more than 1/2 sold out.



In her new show, Coco reflects on her early childhood dreams of being a stripper, her crush on the Creature from the Black Lagoon, her love/hate relationship with Facebook, why she left her beloved hometown of New York City, and her summers spent on a nude beach with her husband, Rafael (he's from Spain). Inspired by her mother Helen's advice to have the balls to say whatever the hell she feels like saying, Coco is on a quest to do just that and, in the process, make the world just a little more beautiful.

With a hilarious and poignant blend of monologue, song and multi-media, She's Got Balls is "the latest from the greatest" and will show audiences once again why Lily Tomlin calls Coco Peru "one the last great story tellers. The evening is produced by Marc Huestis presents, who produced last years smash sold out engagement April Fools with Coco Peru at the Victoria Theatre.


More events at The Castro Theatre