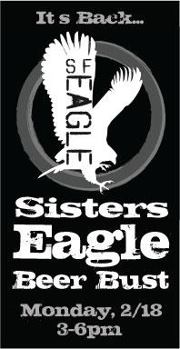 That's right, The Eagle is opening this weekend and we are so proud to be a part of it by hosting one of our popular beer busts on President's Day. Come celebrate with the crowd that made the Eagle legendary and salute the new owners who have poured their heart and soul to bring back this space back that is loved by many.

Proceeds benefit the many good works of SF Beautiful that make this city better.

So, yes, Dorothy, click those heels and repeat, "There's no place like home."
SF Eagle


398 12th St.

Monday Feb 18, 2013
3pm-6pm