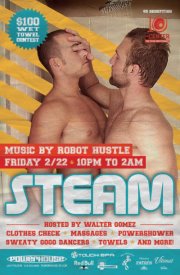 The shortest month of the year is coming to a close, but we're not gonna let it go without a bang! We're proud to have Honey Soundsystem's own Robot Hustle with his brand of sexy disco tunes to get you all hot and cruisey!



As always, we'll also have:



*$100 Wet Towel Contest!

*Deep Tissue Massages by Ramses Pringle of TouchSpa!

*Glistening GoGos!

*The Infamouse Powershower™

*Patrón Tequila & Ultimat Vodka Drink Specials and Samplings

*Free Clothes Check and Towels!

*Steamwork Passes!

...and MORE!

$5 cover hooks up the SF LGBT Center.
Powerhouse


1347 Folsom St.

Friday Feb 22, 2013
10pm-2am
More events in San Francisco